Just in case someone told you games only make you waste your time.
Playing vidya is a hobby in itself, but it can also inspire you to take up more interests related to what you play!
Both Steve and Dawid argued that gaming experiences helped them in their search of a future job, and that's very true. Today, however, I wanted to focus on something different: the things we do in our free time.
You probably heard quite often that gamers just play stuff and nothing else. Sure, there's quite a lot of people who do just that. But claiming it's a very unproductive and uninspiring hobby? My experience tells this is absolutely untrue, as games informed a whole lot of other interests of mine.
I started playing video games around the age of 4. My first PC game was probably God of Thunder. Next were the likes of Doom and Duke Nukem 3D, but the ones I loved the most at the time were Warcraft II: Tides of Darkness and The Lion King. I was very much into real-time strategies and flight simulators. F-22 ADF, F-16 Fighting Falcon, F/A-18 Hornet 3.0, anyone? I got my first PC in Summer 1998, and that was the beginning of an amazing adventure. I still believe 1998–2001 was the best time for gaming ever.
These days I don't play much, but I still revere titles such as Outcast, the original Thief trilogy, and the StarCraftseries. As you can see, I'm more classically-inclined, but I did enjoy some modern releases, such as Hearthstone (half because it's Warcraft, half because it's incredible) or Horizon: Zero Dawn.
The following list is obviously based just on my experiences and your mileage might vary, but there's a good chance it'll resonate with you a great deal.
1. Yelling because I can't get the pieces to fit
This is truly one of the classic manly hobbies, passed from generation to generation. Cardboard and plastic models, building stuff out of Lego bricks and so on — all these are excellent exercises in creativity, ingenuity and tech savviness, especially if what you're constructing is a figment of your imagination.
While I'm pretty sure video games weren't the actual inspiration behind this hobby — my dad gets the credit here — I remember that they still had a huge impact on me. I remember building a LEGO Comanche attack helicopter. I based my build on a screenshot from Novalogic's Comanche 3I found in PC Gamer. I used random bricks, of course, so it was very colorful, but also very detailed and cool-looking. The silhouette was spot on, and the gunship had stub wings armed with Hellfire missiles.
Man, I wish I had a photo of that one to share with you! Sadly, the model was destroyed by my toddler cousin, and I was so disgruntled I never rebuilt it. But that wasn't the end of my Lego adventures. I remember building a model of the Thunder combat boat from the Thunder in Paradise TV show with my friend, as well as bunch of other things later on.
My point is — video games certainly inspire people to build awesome things IRL. Just check out some amazing Lego creations or weapon replicas on the Internet, like this incredible Battlecruiser from StarCraft 2 or Mass Effect gun props. Epic stuff!
My latest builds? I tried out Zorii's Y-Wing from Star Wars Episode IX by Metal Earth, my first Gundam ever (Astray Red Frame), and a M60 Patton tank from Cobi (a Polish brick manufacturer and a very nice alternative to Lego). Here's a bunch of photos: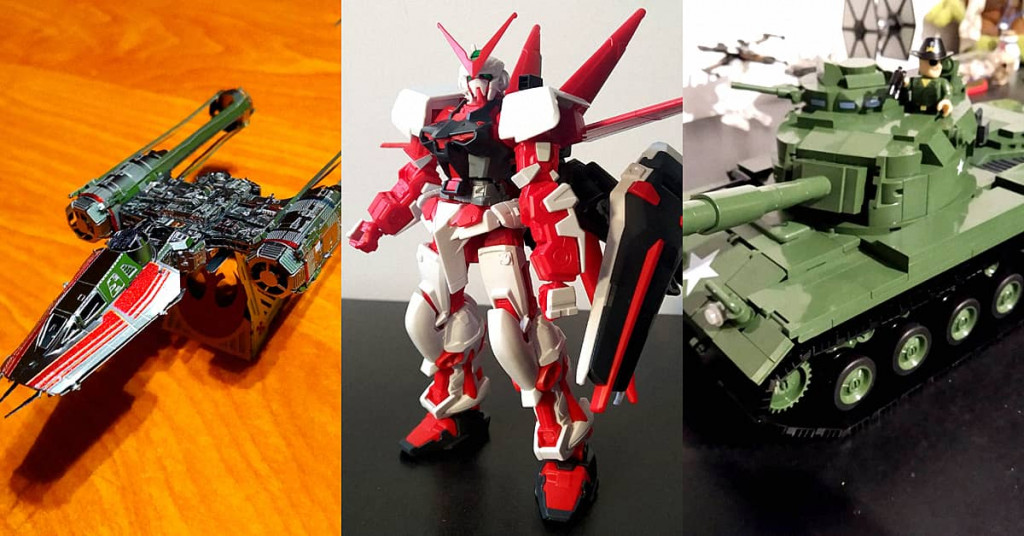 Were these fun to build? Absolutely. Were they a test of patience? You betcha. Were they relaxing? Yeah…at least until them tricky parts (lookin' atcha, Zorri's Y-Wing!). Proper tools are a must if you want good results.
2. Mom, I think I'm gonna need new shoes
I always loved outdoor exploration, since I'm an adventurer at heart, but it's even more amazing when you discover that, say, your neighborhood looks like something straight out of your favorite video game. My home area looks like a mixture of StarCraft's Jungle and Badlands tilesets with an added dash of the Canyons of Death and Swamplands in Heart of Darkness(a game that totally blew me away and had the most impact on me as a person). What about yours?
If you love wandering around in open-world games, why not give it a shot in the physical world? Hiking is an exhilarating experience and an excellent physical exercise to boot, since it does wonders to your mind and body. What's better than exploring gorgeous locales in, say, Horizon: Zero Dawn or Far Cry 5? Seeing such sights up close and personal!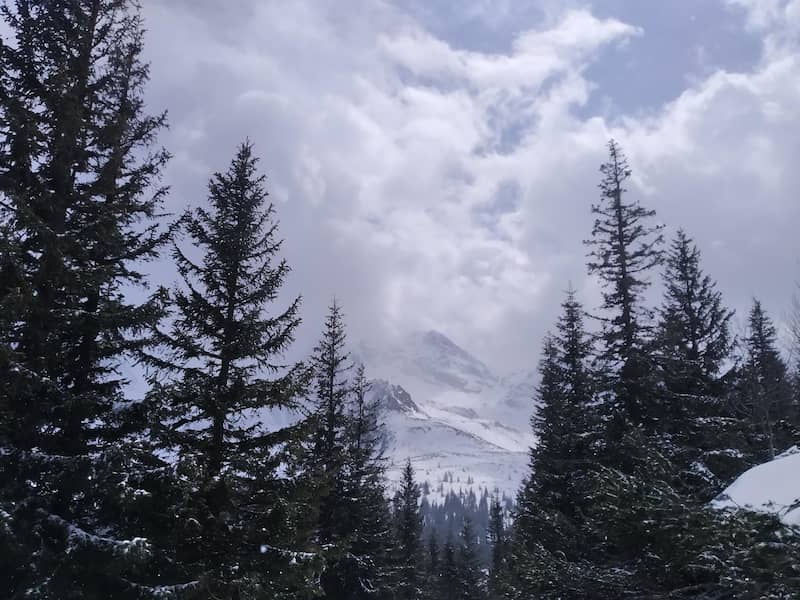 3. Smile, you're on my 8x scope!
Paintball's cool. Airsoft's even better, as it's highly customizable and lets you LARP as a military operative. Why laser tag, then? That's because the former doesn't have this video game vibe to them. Laser tag is less expensive and much less prone to cheating. A resilient player can lie, sensors won't. Besides, the systems behind laser tag let you replicate video game scenarios in real life, you can have as much health and ammo as you want, and so on.
I started my adventure with laser tag in 2016. It was a typical place you associate with the game: a flashy, dimly lit maze full of smoke, and players wearing LED vests. Tacky, but super fun, especially when they started blasting the Star Wars soundtrack. We even took part in a tournament once. My team, called the Wolfpack, made its way to the quarterfinals.
We were undermanned, as other teams had 5 people, and it was just the 4 of us, but we won all our matches bar one. In our final battle we were pitted against the winners of the previous tournament. They were called the Annihilators, or maybe Armageddoners, I don't remember. Anyway, we had our pep talk. We told ourselves that even if we lose, we have to give 'em one hell of a PTSD for the rest of their lives.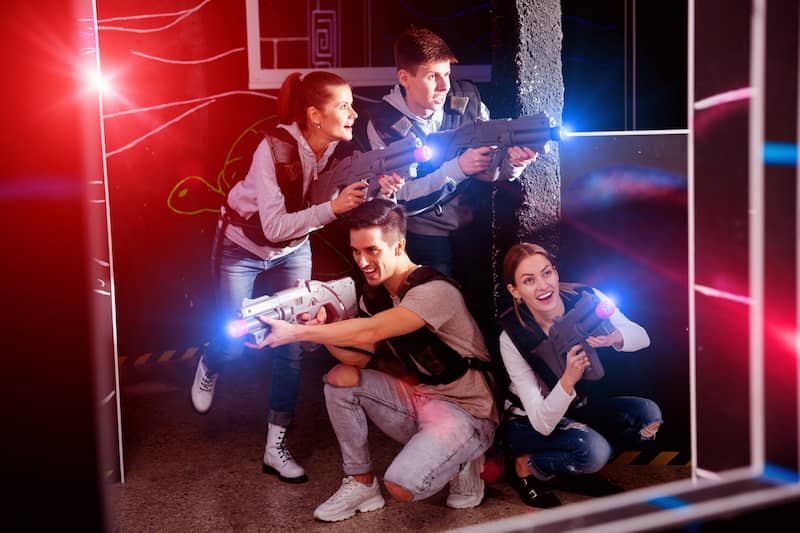 Yes, we were defeated, but what surprised me was the reaction of the hosts. When the victors emerged from the arena, they weren't greeted with a message like "congratulations, Decimators, a well-deserved victory, you are the best." What they got instead was a bunch of laughs and "lol @ you guys, we were absolutely certain the Wolfpack was gonna demolish your sorry butts." Dunno about the rest of my team, but I was proud of our accomplishment.
Fast forward to 2017. I start working at G2A.COM. There's this amazing little place known as the Laser Stronghold. Goodbye tacky kiddie blasters that go pew-pew-pew, it's time for submachine guns and assault rifles. The place feels like a cyberpunk-tinged CS:GO arena, and the game requires more effort and precision on your side. Your final score is based on your entire performance (frags, deaths, accuracy, shots fired, etc.) and not just your kill count. Showering the arena with electronic lead isn't going to help.
The local player base is pretty strong and features quite a bunch of skilled players, but I'm slowly working my way up to the top, so that I become one of the best. And the fact I can blast classic shooter music (Unreal Tournament, SHOGO, but also recent Doom games, etc.) in the background is really cool.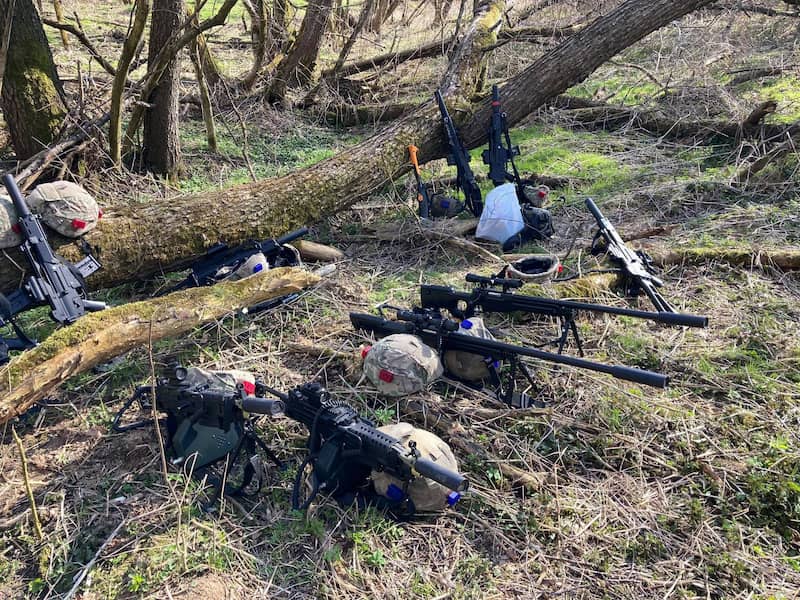 Lately, we started playing outdoor laser tag. Totally feels like ARMA 3 and the like. The environment is always going to surprise you and you can choose pretty much any arena you can think of. And to be honest, first-person shooters lost their appeal after the above. Laser tag is just super fun, it's one heck of a workout, a very exhilarating and rewarding experience. Definitely give it a shot, especially if you want to try paintball or airsoft, but you're not too fond of possible injuries caused by the projectiles.
4. Let's put Thomas the Tank Engine into every possible game
One word: Skyrim.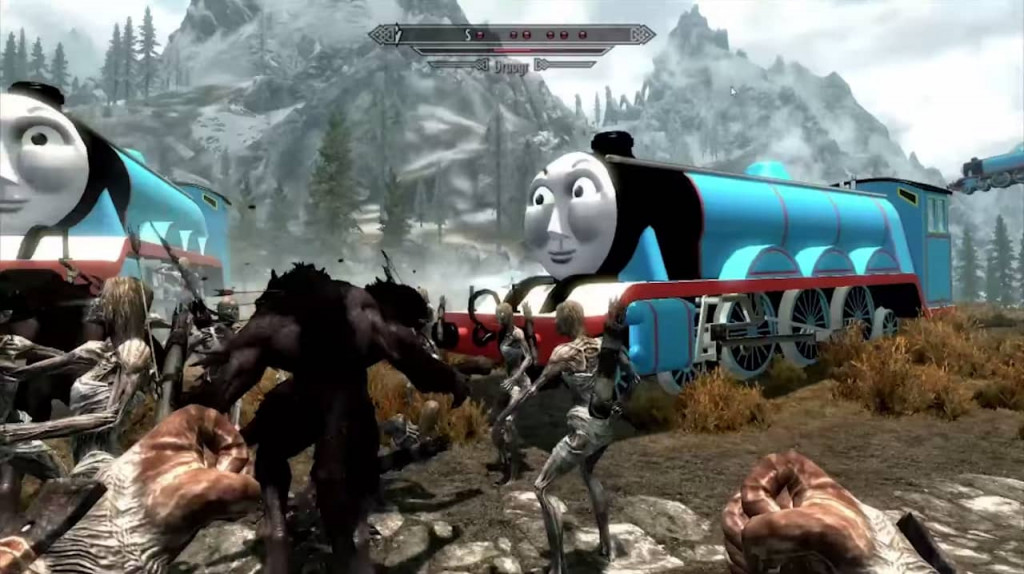 People do amazing stuff for games to this day, contributing to their longevity. New levels or character models, heck, even total conversions (changing Mount & Blade into a Star Wars game, for example) — you're probably familiar with these. After all, games like Dota 2 or League of Legends debuted as custom maps for StarCraft and Warcraft III!
I was no stranger to modding, either. Back in 1998 I started browsing game folders just to see what they contain. Textures, sound and setting files, you name it. One of the things I was really into at the time was sound design, so I started building my sample collection. Whenever I felt a game has bland sounds, I replaced them with my favorites if there was such a possibility. This way I modded Tread Marks, Panic! Volcanoand State of War. My contributions to the Knights of the Old Republic scene? Changing Bastila's hair to black.
I also used to mess around in level editors. Never made anything substantial because of computer usage limits my parents imposed on me (a smart move on their part), but there was one map in StarCraft I created that felt fairly complete. Steve talked about his childhood being a one huge gang war. Same here, although it was more on the GI Joe side of things, so StarCraft was an amazing environment for replicating that destructive conflict in a virtual setting. I made a more or less accurate rendition of my neighborhood. The goal of the mission was simple: destroy the rival squad's base. Heard they're breeding beasts of war (them zerg) and planning to unleash them on the good guys. So you're supposed to barge in and wreck the enemy fortress. Quite a decent map. There was just one bug that caused the game to pause during the final cutscene, but all you had to do was press ESC to get the Victory! message and complete the mission. Good times.
Unfortunately, I made these mods a long time ago, back when you weren't able to archive stuff as you pleased. Hence, they were lost forever.
5. Trying to make a better Quake
To this day I remember drawing concepts of various games. Lots of zany ideas that were emblematic of the 90s. One of these was a game where you fly an F/A-18 Hornet in a canyon, and your goal is to destroy enemy units on the bridges you fly over. Sort of like River Raid or perhaps Raptor: Call of the Shadows, but from behind the plane, not a top-down perspective. I drafted a Warcraft 2-style The Lion King RTS.
Still, the one that stands out the most was something I titled Abrams Peacemaker. What a story that was. America invades Poland. Polish soldiers capture an Abrams tank and then use it to repel the aggressors. Dunno where I got this idea from, probably Armored Fist.
I also remember firing up MS Paint to draw and "play" games in it. There used to be a LEGO theme called the Aquazone, and I got one of these sets for Christmas back in 1996, I think. The build featured a targeting computer that I redrew in MS Paint to play a game of Silent Hunter. Here's what it looked like: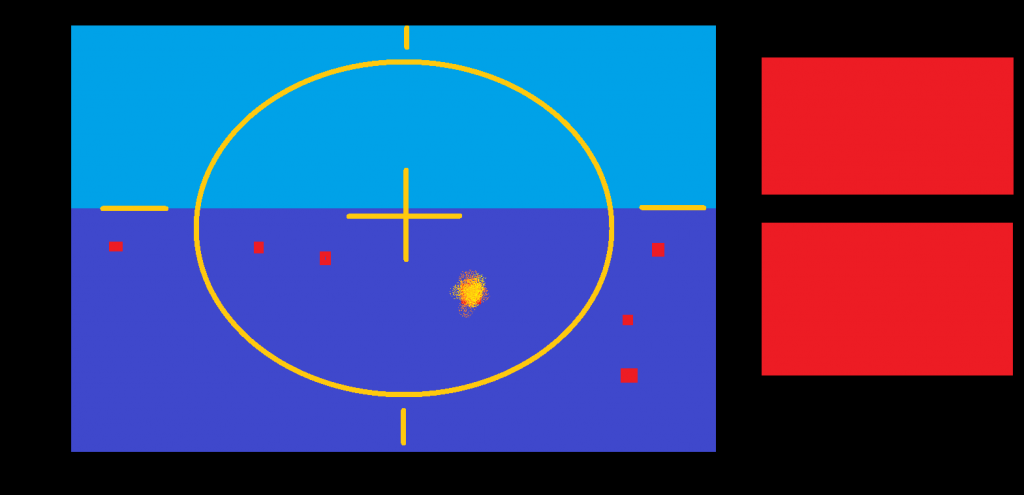 Jokes aside, there was one game that I was working on in Klik & Play, a script-free tool to make your own vidya. One of my fully-realized ideas was a 3-level action game. The story was simple: a buddy of yours is held prisoner by your rival. In Mission 1 you fly an RC fighter and your task is to destroy enemy fighters, so that your opponent can't scramble them. Mission 2 is a sort of a twist on Missile Command. You have to shoot down the enemy command ship that launches rockets at you. Once you do, your buddy ejects from the exploding ship, but it's not over yet. Mission 3 is where you face your opponent. He's on the top of a tree, launching stuff at you. You need to avoid the projectiles and defeat the enemy before your buddy gets sucked in a vortex (don't ask). Ah, childhood memories.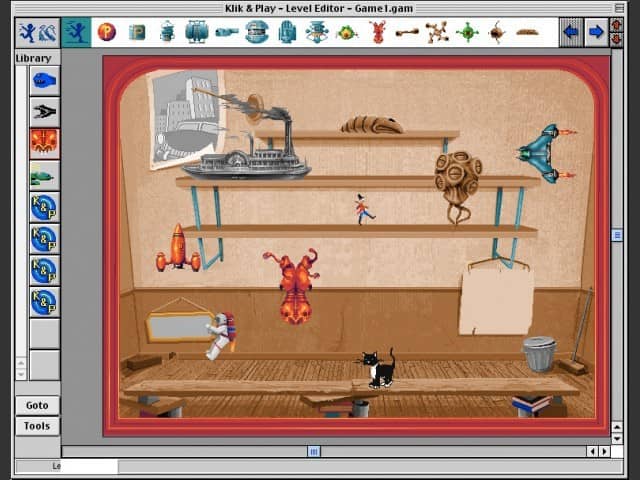 I was also working on a very ambitious project — a Metal Gear Solid-themed platform game where you explore military bases, destroy drones and kill enemy soldiers. I think I wanted to feature a full-fledged mech battle at the end or something. Of course, that was too ambitious of a concept and it was mostly in my head, but that could've been a pretty amazing game.
Still, I was more of a modder, but that one game or two I was working on was something else.
Drawing, CG artwork, composing music, cosplay & prop making, machinimas, all sorts of fan fiction…there seem to be no limits to what video game enthusiasts can do.
And even if mashing them keyboards is all they stick to, so what? Times change, yadda yadda, et cetera et cetera. Our parents and grandparents have novels and movies they're super nostalgic about. We got video games. And I'll be sure to subject my kids and grandkids to Heart of Darknessand other amazing titles I gladly wasted my time on back in my youth. I HAVE SPOKEN!
by Łukasz Wilk, Copywriter at G2A.COM
Back