There are these really cool people called the League of Superheroes who are trained in child care and psychology, and take the time out of their busy lives to dress up as superheroes and other popular figures from cartoons and movies, and visit children in hospitals, hospices, orphanages and juvenile centers.
In light of the 25th finale of the Great Orchestra of Christmas Charity, we teamed up with the League of Superheroes to bring some smiles, gifts, and fun to hospitalized children.
On any regular day, we go to work and go through our daily routines – basically we do our job, and we live our lives. But on January 15th, 2017, we wanted to do a little bit more.
If you have some time, check out the video of our time spent with the kids:
We hope this video brought a smile to your face, and maybe even encouraged you to go out there and do some good. Either way, thanks for your attention.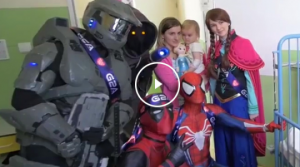 ——————————————————————————————————————————
The Great Orchestra of Christmas Charity, the biggest non-profit, non-governmental charity in Poland, has raised over $250 million since 1993 to support health care in Poland. Each year, the charity holds a finale to raise money for a specific cause. This year, the foundation is raising funds to save the lives of children and provide dignified medical care for seniors.
Back