My motto was "Expect the unexpected."
This is the third (and final) article in a series where I talk about my experiences working at G2A. Be sure to check out parts one and two!
My first week at G2A was one heck of a wild ride. But what happened next? Stay awhile and listen.
October ends and new tasks keep coming. I'm becoming more and more familiar with the tools I need, as well the people I work with. The first few weeks are hard because learning is always on the agenda. Meetings are coming thick and fast, and so are my new responsibilities.
The latest order: start sending a very important email each morning to some of the highest-ranking people in the company, as well as the entire marketing department. Talk about nerves! It takes me a couple of minutes to ensure everything's in order before I finally click "Send." I'm truly worried of making a mistake.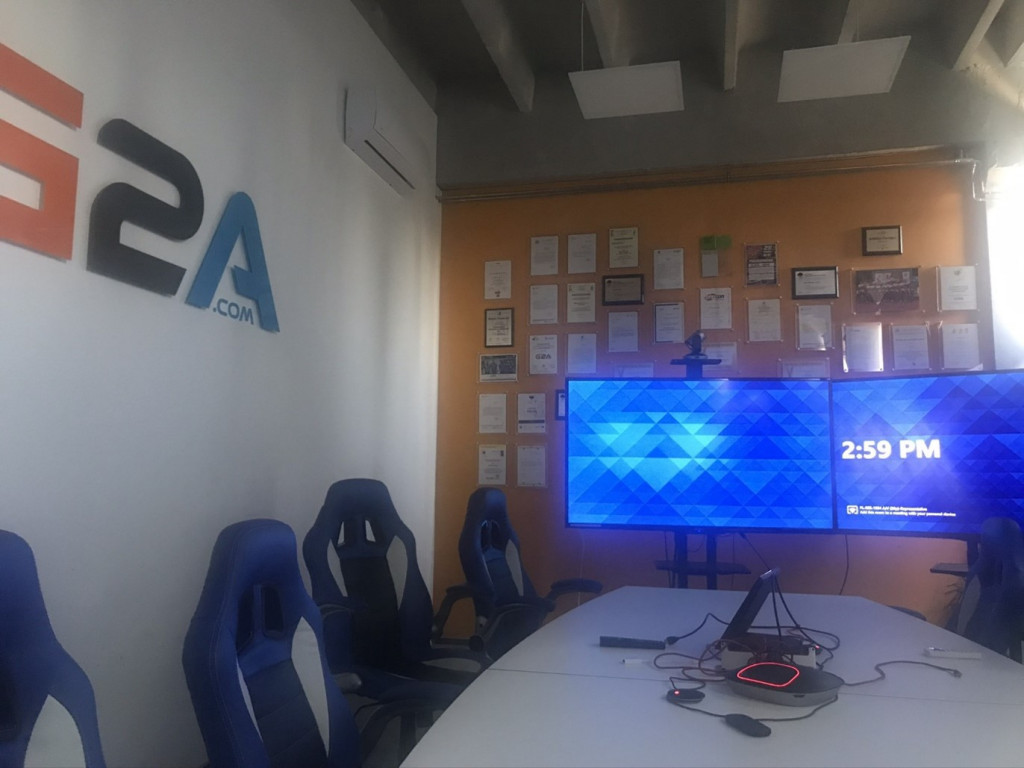 With a new job come lots of new responsibilities
One of the first meetings I had put me in a position where I needed to think for myself and act intuitively. It is certainly a memorable one: I made myself look silly with one of my responses. I felt a little bad afterwards and asked the girls on my team if the answer I gave was really that bad. Their reply?
"Haha, yes, it was quite bad. But don't worry about it."
Weeks and weeks, though, things were getting easier and I began to really understand what was required of me. Or so I thought. More tasks came out of nowhere.
The next big job for me was being part of a small team that was to be interviewed by Esportmania TV. They were working on a video about what's it like to work at G2A and the gaming industry. Cool, no?
I straight up said "I'd like to be in this video." "Your wish is granted." Awesome!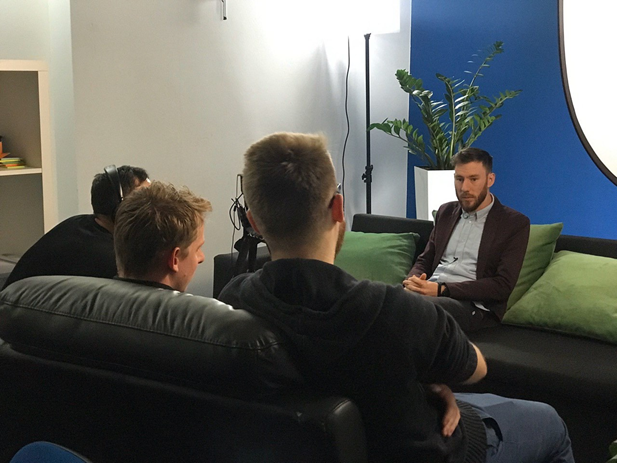 I've never done anything like this before. Sitting in front of a camera and being interviewed by the Esportmania guys is something surreal. It's not just them, though, there's our video guy, Witold, as well as a bunch of people from other teams watching the process. I wasn't scared or worried, because this was something I always wanted to do. Back in my school days, I focused a lot on English literature and drama classes, as I wanted to be an actor. 2 months into my time at G2A and I'm already fulfilling a small part of my dream as a child. You can watch the video here:
OK. That's a wrap! I thought to myself: "What else does the future have in store for me?"
My December
The final level of 2019 begins and everybody's working on meeting their KPIs (Key Performance Indicators) for the end of the year. People are making sure that nothing will disturb their Christmas time.
Remember Mikey Shines? Well, this guy is always looking to create new videos and ads for the company. He's the face of G2A, so he gets to be everywhere. Lucky for me, he took me under his wing and let me be part of his work. It's Christmas time, so G2A's Christmas ad would be fitting, correct? So we started working on one.
Sebastian Kaczor is the guy who writes the scripts at G2A. And when I say writes scripts, oh boy, does he get creative with them. They're not just amazing advertising for the company, they're so fun for everybody involved in the production of these videos.
So, our Christmas ad focused on me sitting at the computer clicking a link that says "cheap games." Santa Mike slaps my hand, then my face, and finally flips my desk, throwing everything off it, including a monitor. Rampage, indeed. Next, he gives me a laptop with all the hot deals G2A has to offer.
All this happens with Sebastian under the desk having an up close and personal look at my crotch. And we're just trying to do our job without bursting out laughing. That takes a few good hours, since it's night impossible not to crack up at Mike's temper tantrum.
Why is Sebastian under the table? Oh, it's simple. He's there to give a thumbs up at the end:
The undisputed G2A pool champion
During that period my team had an internal pool tournament. We played against each other, and the people with most wins went to the semis and then finals of the competition.
As a Brit, I've had my fair share of time spent at the pool table, so I entered the tournament confidently. After some great games, it's just me and my manager, Maciej, in the final battle. It's a first to 3 match. It's 2–1 for Maciej and I'm on the brink of being eliminated. I take a deep breath, put on my game face, and luckily get the tie to 2–2. It's the final match of the tournament, and any mistake was going to be costly.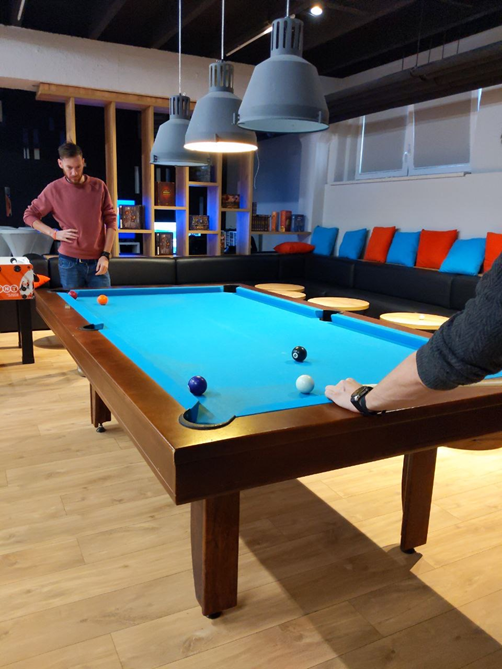 All I had to do is just pot the black to win. I hit the white and it does the trick. What stops my celebration is the fact that the white keeps rolling closer and closer to the middle pot. But I am lucky — it bounces off the cushion and stays away from the pocket. At this moment I am crowned the undisputed champion of pool at G2A.
To this day, nobody has taken that title, and I'm confident nobody will.
The final trial
My last big task before Christmas was something truly magical for me. I was a part of a 4-man streaming team that will raise money for a charity. This charity I'm talking about is called Extra Life, a non-profit organization that helps children in need. All donations go towards supporting the Children's Miracle Network Hospitals. It's going to be a 24-hour stream.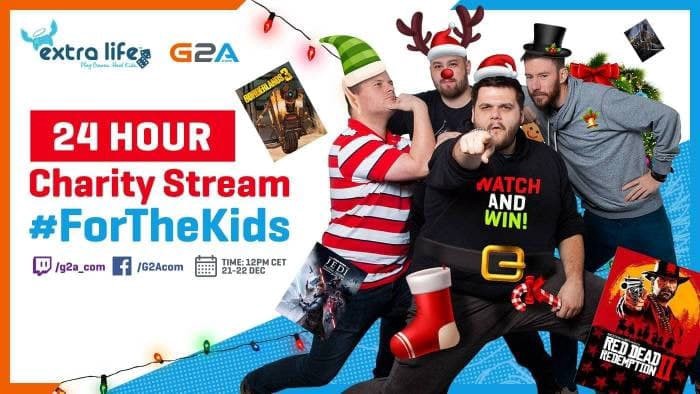 The goal of the stream is to encourage people to donate as much as possible to this great cause. So, Mike set up some goals that we needed to reach. For example, if $100 is donated, we will put on makeup and do some crazy dancing. Since I'm very connected to the event, I want to stay for the full 24 hours to raise as much money as we can. I'm the only one who stood up all night and boy, was I exhausted at the end of it all. Still, I feel great knowing that we did something awesome for the kids. Ultimately, we raised $2,000. A huge success in my book.
Christmas was right around the corner and Maciej called me into an office. He told me he's very happy with my performance at G2A and asked me if I'd like to continue working here, ending my trial period. I accepted the offer. Next, I spent Christmas happy knowing that I passed my trials. I'm now a full member of G2A.
Enter 2020
'Twas the year when many things changed regarding my responsibilities at G2A.
My next task — which I really enjoyed — was shooting a video for a Valentine's Day ad. Again, Sebastian is very creative with the script. His plan is to have Mike be a reporter interviewing me regarding some tragic news. Flying cats are taking over the world. Yes, you read that right. FLYING CATS:
My job is to act scared and show the reporter where the cats might be. Again, it's so much fun and the end result is fantastic.
The end of January had amazing things in store for me. Mikey Shines proposes the idea of having a second streamer at the company. We'd be live a whole lot more and we could increase our reach that way. It was unbelievable, and I was totally up for that.
I started my first streams in February. I teamed up with Mike for the Halloween VR stream or the Fortnite stream for Team Atlantis, but this was my first time on my own. It was kind of scary, to be honest, and stage fright kicked right in.
My job was to do a Valentine's Day stream. I needed to post on social media that I'll be going live and where to catch me. So, I take the photo below and ask people for company on the day that's unfortunately very lonely for some: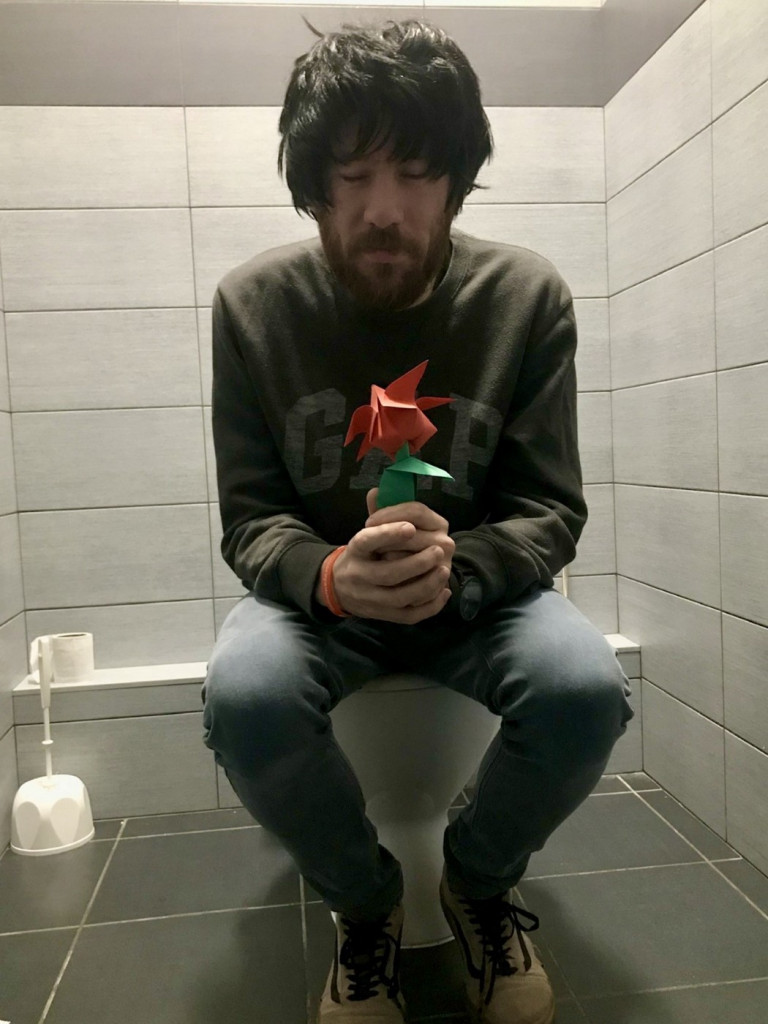 There's a happy bunch that tunes in, so I'm very satisfied and thankful for the whole experience.
Unfortunately, in March, the pandemic ceased my streaming activities. The connections I had with people and the office also began to slowly fade away, sadly. All the fun stuff I've been doing didn't end completely, however. One of my favorite moments was giving a game key to one chap on Twitter. He's lost his job and was unable to get his brother a birthday present. So it's a nice opportunity to do something good and help out a fellow human being.
Honestly, all the experiences during my first year at G2A made work not feel like work. It felt more like a hobby. Many of my dreams came true here. Even my streaming career resumed! I just can't wait to see what my future at G2A has in store for me.
By Steve Jones, Community Specialist at G2A.COM
Back