Parents are shocked to this day. I'm not.
Growing up in the 80s, most people thought gaming is a complete waste of time. It's not like this perception has changed in any way. You're still going to hear that games make you socially inept and that they will never put food on your table. Guess what, boomers – "bashing buttons mindlessly" gives your kid much more in return than you think!
And yeah, I got a job. I even think my gaming experience helped me with what I do for a living. Here's my story.
I started at the age of 4 with Super Nintendo and Omega. I used to play these consoles with my older brother. It's one of the very few memories I have of him. He was living with my grandmother, while I was with living with my parents. I would go to visit him at least once a week, but since he was busy with his own life, we did not get to see each other more often. He would show me how to play games like Sensible Soccer, and then I would play after him. This is how I fell in love with video games.
Sadly, I moved away from the area, which made it more difficult for us to get together. As time went on, the contact stopped and due to my brother's personal choices the last time I saw him was around 2001/2002 when I was 13 years old.
He visited us once. We were playing Mario 64 on the N64, our younger brother included. I've never seen my older brother again since then.
I must admit I was fortunate – my parents knew their stuff when it came to technology. They surprised me and my younger brother with a new console, PlayStation. We got it for Christmas 1994. It came with Tekken and Ridge Racer. We'd play the latter for hours on end, until the point of physical exhaustion. Then, my younger brother got an N64 for his birthday a couple of years later. Even our mum joined our Goldeneye sessions, helping us find a solution if we were stuck.
Fellow humans, forgive me my measly attempts at fruitful communication
I started playing Unreal Tournament on the PC. A fast-paced arena shooter that left you wanting even more action. It had a text chat feature. This was the first time I could talk to other people from all over the world. Most of these interactions were limited to "newbie" or "stop hacking," obviously, but the fact that you could talk to others was absolutely fascinating.
I was scared at first. Who am I actually talking to? What if they give me abuse? But I was willing to try. I met some interesting people, all a lot older than me, but cool nevertheless. We were able to have small conversations going on in between shooting each other's faces off. I was, like, 11 or 12 at the time.
Then there was Xbox Live, introduced in 2002. This was my first time talking on a mic to online folks. It was terrifying! You want to do your best, but at the same you got to think of the things you should say. But I made my first online friends on Xbox Live, so that we could continue our races in .
My first job interview
2005 is where things really developed, though. I was very much into Counter-Strike: Source. I loved it so much that I'd spend a couple of hours a day playing it. I got competitive and wanted to play at a higher level. This is when I started searching for a clan.
Key new skills: acquired!
Let's begin with soft skills:
I learned how to communicate and get along with all sorts of people with different backgrounds.
Phone calls? Webcam chats? Absolutely no problem. I don't have that kind of anxiety when talking to new people.
I am confident when posting on social media.
I enjoy engagement with other people and love helping customers with their needs.
I can start relationships which can assist people in many different areas.
I know how to listen to and sympathize with different people, co-workers and customers alike. I got good at asking proper follow-up questions. I owe all this and so much more to my experience in online games.
You see, when you're a part of a team, synergy and good relationship with other members is a must, otherwise everything falls apart. This leads me to the second skill I picked up thanks to gaming: teamwork.
When my teammates at B need someone to jump window on de-dust2* and cover them while they're planting a bomb, that's exactly what I need to do. Or if a teammate is defusing a bomb, I need to be their eyes and watch for enemies trying to stop us.
World of Warcraft, a massively popular MMORPG is a fantastic example of this. I am an old Vanilla** player. I used to be part of 40-man raids*** going against PVE and PVP opponents. Every single person was required to listen on Teamspeak and provide feedback on the calls that were given. Each raid member has a unique role. As a mage, I had to polymorph correct targets, so that my raid can have an easier path to get to the end goal – defeating Ragnaros in Molten Core in most cases. Having to work with so many people at once helped me tremendously with my job.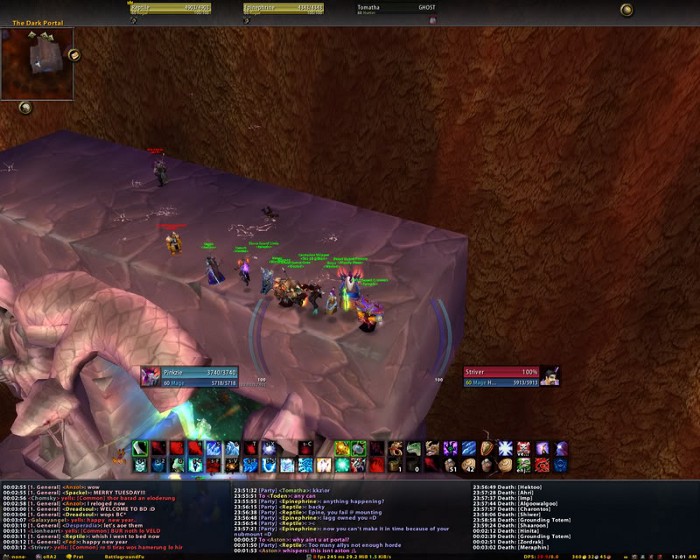 I know that if my manager or colleagues need a hand with a task, they can rely on me to help them reach their goal. An example of this was when my colleague went on holiday for 2 weeks. She needed someone to take over some of her responsibilities. These tasks were important and extremely necessary for other members in different teams. Right now I am working with 4 different teams at G2A. In order to do this properly, I need to listen to both my team and customers. Whether it be a client needing assistance with their purchase or somebody asking about the company's practises, you need to first listen and then react. This is something that gaming has improved in me.
Yet, there is another thing that I have learned thanks to raids. If there's a stressful situation, you cannot be ahead of your team. Everyone needs to know the role they play and stick to it. Simply put, you need to know your place. You are a hero, but only as a group, not an individual. Individualism makes everything fall apart.
Those times when I had to call the shots
During my time in CS I had moments where I would call. Calling means you need to lead your team by telling them where to go and what to do. These strategies were worked on previously, but anything can change in a second. If the bomb gets dropped in mid, you will need to tell your team what to do to get that bomb back. To call, you need to have confidence in your ability to lead. Your team is counting on you and you need to be ready.
Thanks to this, I was able to assist a new intern. My leadership has helped him tremendously. He was able to answer community questions, as well as monitor our social media channels after just 3 weeks. He also knows that he can come to me at any time and count on my help. This extends to my team as well – I feel confident enough to offer what I think is the best solution where there seems to be none.
Crash courses in working as a unit
In old school CS teams, clan leaders would organise team trainings, twice a week. We would learn calls, spots, positions and how we can benefit from our surroundings. Thanks to these, we were able to improve teamwork and efficiency.
Onboarding at a company works pretty much the same way. I got to admit, games are more fun and everything, but now I know how constructive and beneficial these training sessions and exercises at work are.
The world is full of businesses that offer to train and teach you soft skills, but in exchange for hefty sums of money. Thanks to gaming, I was able to pick up these skills and a lot more simply by doing something I enjoy in my free time. I believe it helped me get my job, and the skills I picked up come into use each day.
Next time someone tells you that gaming is a waste of time, tell them your story and show them there's plenty of proof to the contrary.
*It's one of the most popular CS: GO maps where players have to either plant or defuse a bomb in one of the two available locations.
**Vanilla refers to the original World of Warcraft days, pre-The Burning Crusade. It has been released as a separate version of WoW for fans wanting to relive the nostalgia.
***Raids are challenges for players who have reached the maximum experience level in WoW. They feature complex dungeons with difficult enemies that can only be defeated by groups as large as 40 players (although this varies from raid to raid). Each raid party needs tight cooperation to win.
Back