It seems that internship programs are becoming more and more popular among companies today. Not only is it an amazing opportunity to discover true gems and turn them into future company superstars, it also gives post-graduates and students a chance to gain some real work experience. Can you imagine a better way to become a qualified specialist in a position that you did not even know existed a couple years back? This isn't something standard education can offer you!
So, where did it all start?
We needed new marketing & UX specialists, but they were hard to find using old-fashioned methods. Our local job market seemed to lack such experts, and potential relocation proved to be too much of a hassle in many cases.
Our response to all this?
The G2A Summer Internship program. Why did we decide to go in this direction?
Several reasons:
We received numerous e-mails via G2A's contact form from students and graduates asking about internship opportunities every week. We realized there's incredible potential in this group that we should tap into.
Our company appreciates the initiatives of its employees. The internship program was an extremely interesting project for our HR team to run and coordinate from start to finish.
From an Employer Branding perspective, this was our way of showing that internships don't necessarily entail brewing coffees and shuffling papers. Time to kick that stereotype to the curb!
G2A Summer Internship was a 3-month paid internship program organized in G2A's office in Rzeszow, Poland. Its focus was the marketing & UX departments. Our interns could give the following career paths a shot: Paid Media, Web Analytics, Partnerships and UX.
So, how did we find our intern superstars?
First, we defined our target group: students from the Subcarpathian and Lesser Poland voivodeships. To reach them, we used the following:
Posters on campuses, prepared by our graphics department. Old school but effective.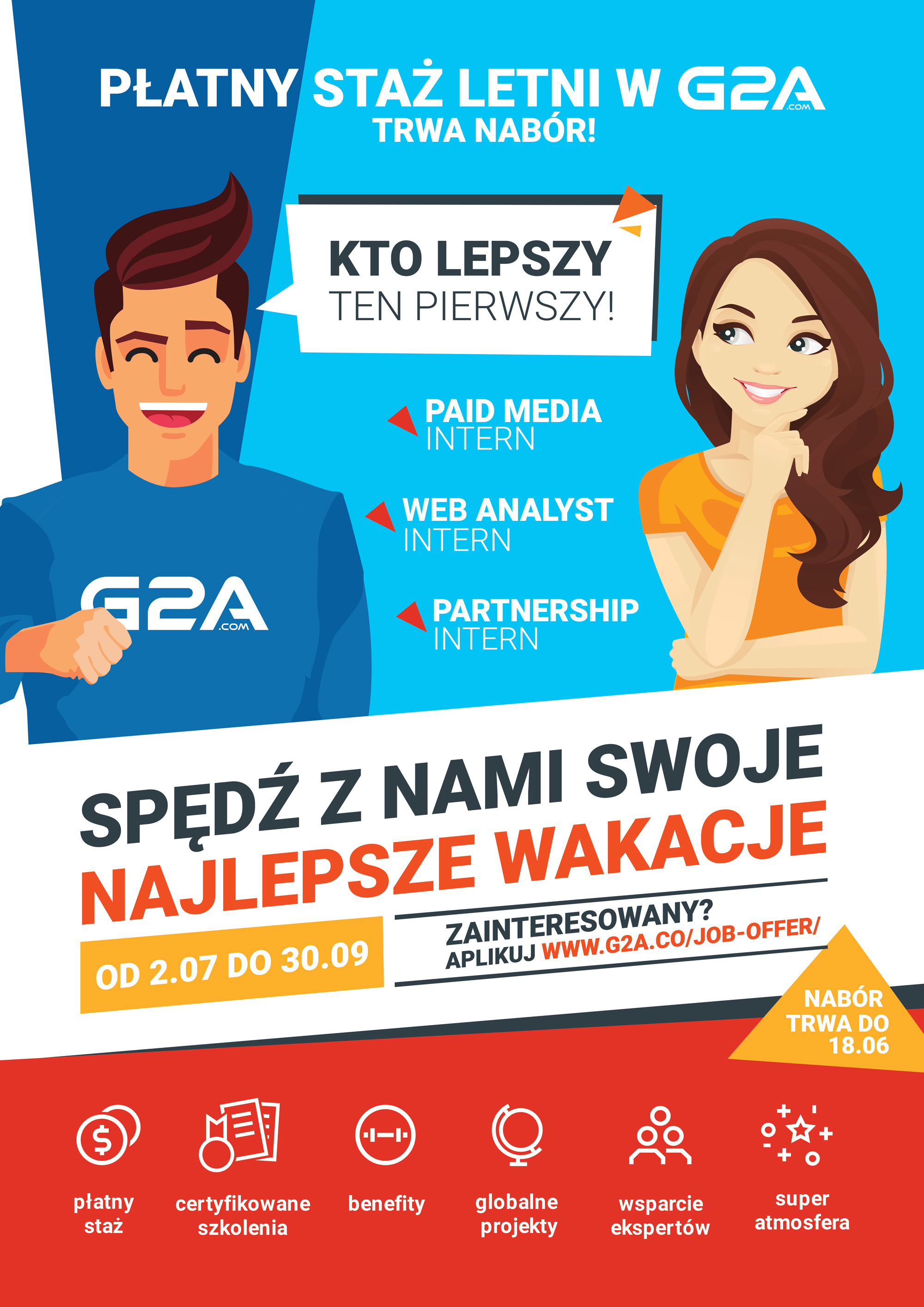 Students' natural habitat – Facebook! Our ad there was aimed at 20-25-year-old students from the Rzeszow area. This channel proved to be the most effective, as we managed to reach 30 thousand students. This was supported through an organic Facebook profile, LinkedIn and Instagram page.
A dedicated external landing page designed by our Marketing team. As wanted to get it up and running as soon as possible, it was really basic, rudimentary even, but it was more than enough.
In just two weeks, we received 157 applications!
How did we assess the skills of people with little to no professional experience?
Aside from sending in a CV, interns-to-be had to complete a special task prepared by our Marketing and UX experts. This was to assess the candidates' skills, motivations, engagement and interest in the given area. There were no right or wrong answers. It was just a great way for the candidates to show their creativity, express themselves and stand out from the crowd.
Next, we chose the most promising applications and began a series of phone calls to verify additional skills, such as their command of English. The final step was to meet them in person, explain the internship program in greater detail and let them make the decision if they want to participate.
This is how we chose our magnificent 7!
Interns of course required our support, so for each position we chose two people — a "mentor" and a "buddy" — responsible for assisting them.
A mentor was a person who:
facilitated the learning process, answered any questions and helped the interns find answers
supervised the interns' work
set new tasks and made sure that the intern had the necessary tools, knowledge and time to complete tchem
provided constant feedback
A buddy, on the other hand:
introduced the intern to our company culture and served as an ambassador of our values, otherwise known as our G2A DNA
offered support through their experience and was a great source of knowledge and information
provided the intern with advice and guidance through the day-to-day aspects of working in their department and the company in general
These roles were necessary for the program to be successful. Our mentors and buddies knew they might be training their future colleagues and full-fledged employees. This was a perfect opportunity to train the interns and teach them good practices, as well as alert them to possible mistakes or work-related issues.
What did these 3 months look like?
We wanted our interns to begin their G2A adventure in a very special way. That's why we prepared an orientation day for them, which included workshops, a trivia game about the company's products and…a treasure hunt in the office! What a fun way to begin your work at G2A! ?
Thanks to these fun and engaging activities they could learn more about the G2A Ecosystem, interesting facts about our history and delve into the company's culture. We wanted to make them feel at home the very moment they walked through our office doors.
Each position had a dedicated training program. Managers of the departments that interns were to join were given a task to prepare a weekly training plan – a list of tasks for the intern to complete and skills to acquire.
The interns had the opportunity to learn more about the work of their department, what tools are needed, as well as receive valuable certificates from the Marketing and UX teams.
They also had the chance to meet the specialists at Google's office in Warsaw and learn about the company's products during a trip that combined entertainment and learning.
Our interns also knew that their work was not in vain and their projects were of tremendous value to all G2A employees. Once the internship program was over, its participants told us that their main tasks were very motivating and made them feel important and that we have great confidence in them and their skills.
The end of the internship program also involved a job seeking workshop per our interns' request. We talked about creating a proper CV and a LinkedIn profile, as well as adequately preparing for a job interview. We were eager to prepare them for a bright future, whether within our company or a different one.
Summary – time to reflect
These 3 months of the G2A Summer Internship project showed us there is plenty of room for improvement, but it has definitely been a success – four of our magnificent seven received a job offer at G2A. They are going to stay around for much, much longer as full-fledged G2A'nians.
We wanted our interns to feel important and valued, just like every other employee at G2A. They attended their departments' integration events and the G2A Summer Party. We also wanted to give them skills and know-how that they could use in their future endeavors.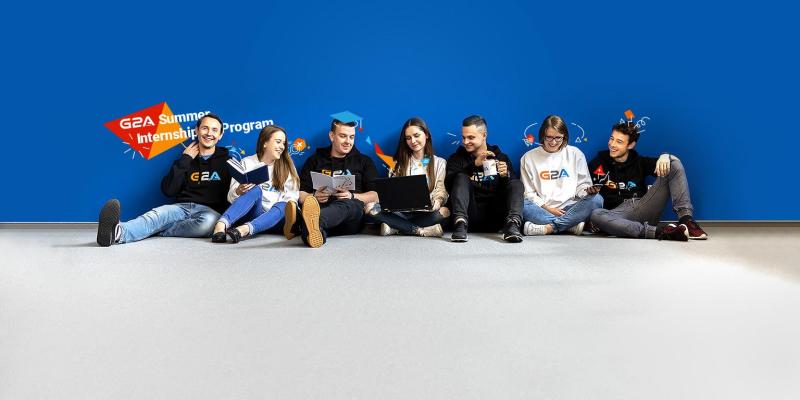 Now we know that such a program takes a lot of effort and needs many more people for it to be properly organized. But the teamwork was incredible – every participant poured their hearts into the project. Thanks to this commitment our interns finished the program with valuable new skills and the feeling that their time did not go to waste. All in all – we can't wait to do it again next year.
by Ewa Kołek
Back