G2A.COM, the world's largest marketplace for digital entertainment, today announced a long-term partnership with the Drift Masters European Championship. G2A.COM will be the Primary Partner of Europe's definitive professional drift series. The agreement was announced at the press conference before the Drift Masters Grand Finale at the PGE Narodowy Stadium in Warsaw, Poland.
Drift Masters European Championship is the fastest growing drifting organization in the world. Since its inception in 2014, it has evolved from the humble beginnings of a 3-round series on a small custom-built circuit to what is now recognized as the greatest drift championship on the continent with alliances across the globe.
This season, fans had the opportunity to attend rounds in Ireland, Sweden, Finland, Latvia, and Germany with the rivalry of such drivers as WRC World Champion Kalle Rovanperä, brothers Jack and Conor Shanahan, Jakub Przygoński, 4th in 2021 Dakar Rally, and last year's Drift Masters winner Piotr Więcek. This year's series ends with the Grande Finale in Warsaw, Poland – the largest competition in the world history of drifting with almost 55,000 fans at PGE Narodowy Stadium.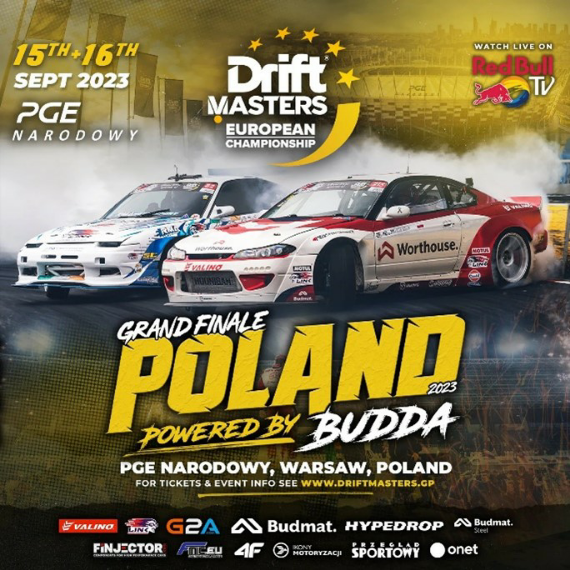 G2A.COM has a long history of supporting esports, and Drift Masters marks a fantastic opportunity to extend this support toward traditional competitions as well, in theme with the company's Gate 2 Adventure motto. It is also aligned with the new business strategy of G2A.COM, focusing on expanding the range of digital offerings outside of gaming, like gift cards, subscriptions, and software, to engage new customers.
"We are happy to start a long-term partnership with Drift Masters and excited about the new possibilities. I have been a huge sports fan for years, appreciating the enormous efforts of the athletes, and the beauty of the rivalry. We are a dynamic brand and sport is a natural direction for us. Business and sport have many things in common – both need dedication and passion, and both bring excitement and emotions. Based on data, gaming fans are hugely involved in sports. G2A.COM means the Gate 2 Adventure, and we consider sports, drifting in particular, as a great adventure with great thrills. It is the beginning of a new journey for us, and we invite all sports and gaming fans to join." – said Bartosz Skwarczek, founder and CEO of G2A Group.
"We are thrilled to unite with G2A.com in a long-term partnership. Drifting, the fastest-growing motorsport, is paving the way for thrilling adventures in the hearts of motorsport enthusiasts. Welcoming esteemed international partners like G2A validates its exponential rise. Drift Masters has been a gateway to excitement for all motorsport fans, and with the invaluable support of G2A, we are poised to turn this dream into an even more formidable reality", Adam Krawczak President of Drift Masters Grand Prix
G2A.COM is the world's largest and most trusted marketplace for digital entertainment, where more than 25 million people have already made their purchases. Customers can choose from more than 75,000 digital items – digital games, DLCs, in-game items, as well as non-gaming items, like gift cards, subscriptions, software and other vouchers – offered by sellers from all over the world.
Please find the link to the G2A X Drift Masters partnership video here.
If you want to see more coverage of the Drift Masters and stay updated on future events, do follow us on social media, including LinkedIn and Facebook.
Back