And I'm so glad I got to be a part of this generation!
I'm fairly sure you wondered, perhaps more than once, if you were born in the right generation. Some of us would love to go back hundreds or even thousands of years just to see things the way they really were. Others dream of a distant future they would love to be a part of.
As someone born in '95 — I'm 25 — I can't imagine a better time for gamers than the days of Millenials, rightfully called the "digital generation".
A childhood far from the digital paradise
I consider myself lucky that my early childhood featured a little bit of technology, which would be unthinkable (catastrophic, even) for many of today's teenagers. Unless you count in a color TV with just a few channels, Tetris E-9990 and Tamagotchi, 90's Poland wasn't much of a tech paradise.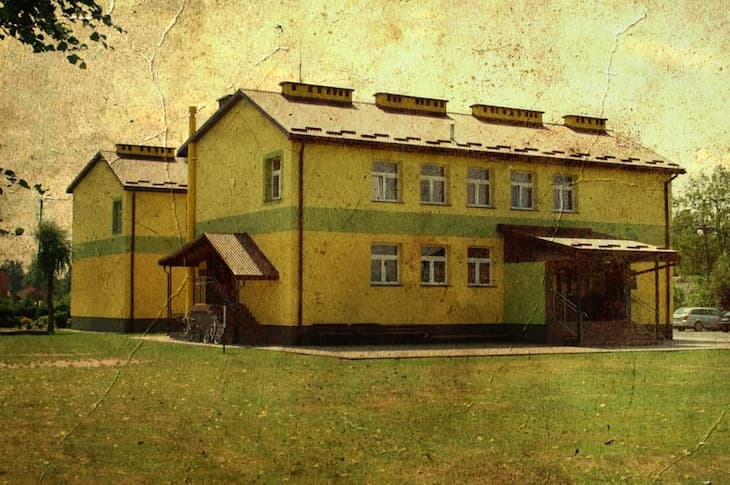 Not my kindergarten, but that's the school I went to next (picture made older for nostalgic effect)
When I was in kindergarten, the only electronic devices available were a simple cassette recorder and our teacher's old Nokia mobile phone. None of us imagined that twenty years later the world would change completely. Time also went by at a somewhat slower pace. We had football, trading cards, chalk chase or French skipping. No one pursued the latest smartphone models, bigger TVs or faster Internet connections. Everyone was happy with what they had and lived in the moment. That's actually what we miss the most today.
From paper encyclopedias in the library to millions of digital sources
Next was primary school where we spent time on carefree games, but also learning. A simple blackboard and chalk had to suffice. Nobody cared for multimedia boards. There were some adaptations of compulsory novels or nature documentaries on VHS. They were played on heavy TV sets hidden away in tightly locked cabinets in some classrooms.
Homework was commonplace. Sometimes it required gathering information that was not available in student books. We had to visit our local library for that. There was no Internet. Instead, we had dozens of volumes of encyclopedias that held all the answers we were seeking. Back then, we didn't know that there'll be such a thing as Wiki.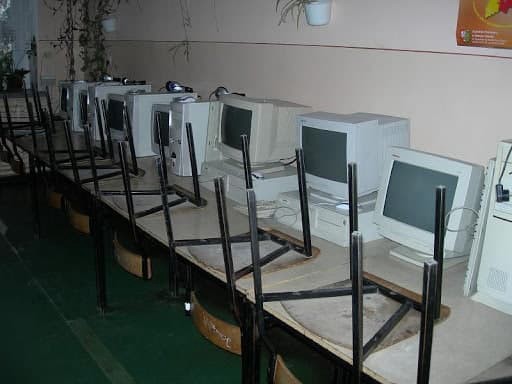 This is what a typical computer classroom looked like in the 90s. Ah, the memories!
I feel like I'm portraying these times as somewhat prehistoric, but that wasn't true. I did have IT classes in the last years of primary school, in a room equipped with about 8 computers with Windows 98 and Internet access. The latter was particularly mind-blowing. We had no problem getting up early to connect to the online world for at least a bit before our classes started.
My first mobile phone and computer
Next came junior high and my first mobile phone: Samsung C-110, a pretty decent model at the time. I still remember some of the games it had: the timeless Pac-man, but also Go! Hamster and Honey Ball, two titles that probably don't mean anything to anyone today. Still, I'm very fond of my first mobile gaming experiences.
Soon afterwards, my brother, living in the US at the time, gave me my first PC, made by EMachines, another long-forgotten brand. A second-hand computer, but it worked like a charm. US — European adapter plugs became precious treasure in my household, as without them my IT adventures would end quickly. The OS was Windows XP, an amazing system compared to the previous version. Too bad I didn't have any Internet connection. Only a few people in my neighborhood had it.
I also discovered WinAmp — a legendary music player — and a bunch of MP3 files in a random folder. My room turned into a non-stop disco club. Most of the songs were not my kind of jams, but Nelly Furtado's "Say It Right" is the one I still remember, as I played it repeatedly back then.
I was a frequent guest at my sister's place in a big city nearby. Since she had Internet access, every time I turned on the computer my goal was to browse a bunch of sites with games for kids, such as Miniclip. This site became somewhat of an icon of the noughties of the 21st century. It was super popular among young players all over the world, as it housed thousands of mini games.
One of the most popular of these was Club Penguin. It was an MMORPG set in an icy world where you play as a, well, penguin. What made Club Penguin special was building online relationships with other people through the chat feature. The game was released on October 24, 2005. It gathered quite a fanbase — 150 million players. Too bad it was retired in 2017.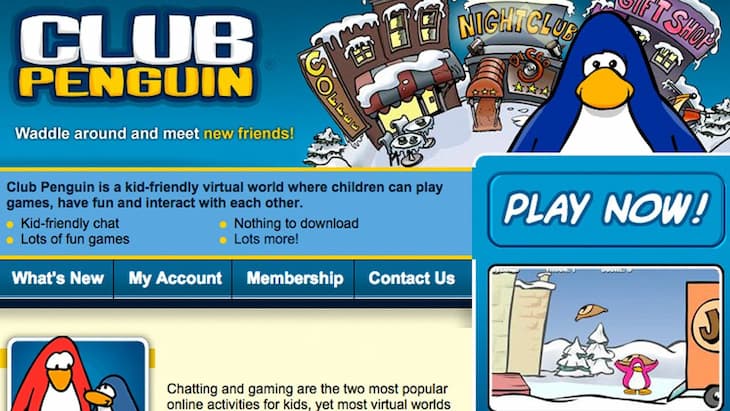 Screenshot from Club Penguin
Club Penguin was a revelation for me. I saw that people from all over the world can communicate with each other in a simple game. These days it's obvious, but back then it was absolutely mind-blowing.
Games, games, and games…
I didn't have any game collection when I got my first PC, but I found one that was pre-installed on the computer. It was Pizza Connection 2 (known as Fast Food Tycoon 2 outside of Europe). Full version, no CD needed, no loading problems. I had absolutely no idea why it was there, but I knew instantly that this game was meant for me.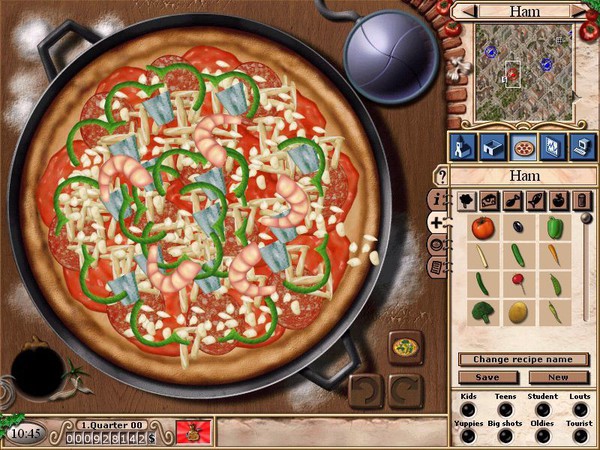 It is an economic strategy game that focuses — you guessed it — on running your own pizzeria. I spent long hours, days, weeks, heck, even months buying new places, refurbishing them, hiring staff, and inventing pizza recipes. I was no stranger to not-so-legal activities such as harassing my competition with thugs, or planting vermin or even bombs at other restaurants.
Pizza Connection 2 was not only my first PC game. It was also the first one to absorb me completely. It taught me so many things about running your own business, way before my first entrepreneurship lessons at school… And I was only 13 at the time.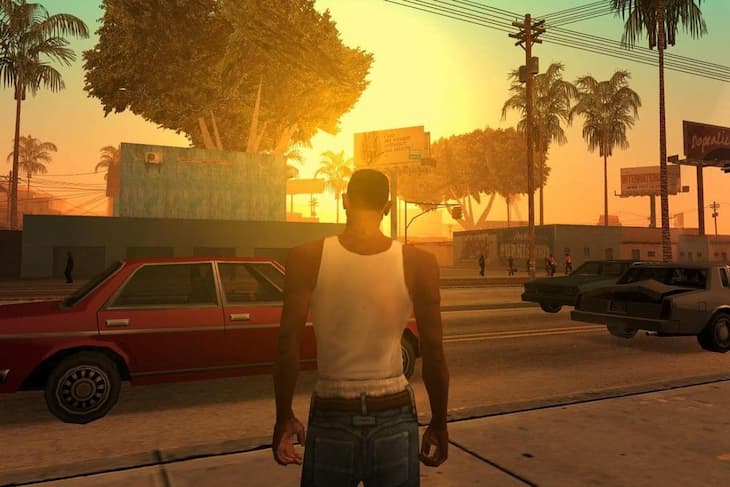 When my schoolmates got their PCs, we started hanging out at each other's places and exploring virtual worlds together. I remember visiting one of my classmates frequently and spending lots of time playing GTA: San Andreas, a huge hit at the time. I was so stoked to finally launch it on my own PC a couple of months later. AEZAKMI, HESOYAM and BAGUVIX may mean little to people today, but I am surprised I can still remember these cheat codes to this day.
Video game mags such as "CD-Action," "Komputer Świat Gry" and "Play" were an immensely popular source of games. Each issue came with one or two CDs with full versions of games, demos, and other cool stuff. We often exchanged the discs with friends at school. Through such a trade I got another game that I really loved — Restaurant Empire. Just like Pizza Connection 2, it was an economic strategy where you manage your restaurants somewhere in Paris. Just like in the real life, your success depends on a bunch of factors: the meals you serve, their quality and variety, etc.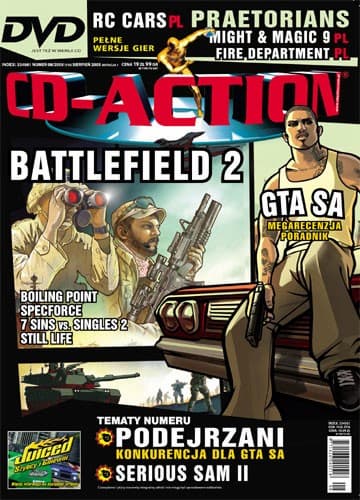 This is what CD-Action looked like back in 2005
This is an example of games teaching us that the path to success is a winding one. We need to be focused and aim for our goals, even though you'll certainly experience failure.
The Internet is very cool
I finally went online soon after, at the end of my junior high. With the Internet came access to millions of games, but also excellent sources of information that I used not only in school, but in my everyday life as well.
Just imagine my awe! Education, entertainment, hobbies — everything I needed was there. I was excited that I could browse the Internet in my room. A couple years back people had to use Internet cafes. For a couple of zlotys they could spend hours online. But these places were becoming a thing of the past.
Today I can see that my childhood coincided with one of the most important processes in human history: the Internet becoming a household commodity, deep digitization, and the amazing progress made by the entire video game industry.
And even if I don't have much time for video games, I still enjoy lying on the couch and completing missions in GTA V as Trevor. This brings back a lot of happy memories from my childhood.
I'm so glad I was born in the 90s.
by Justyna Gola, Community Specialist at G2A.COM
Back